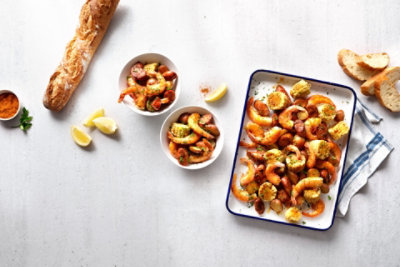 Baked Shrimp Boil Pouches
This fun and simple shrimp boil recipe will make it feel like summer all year round. Plus, this tasty classic features Waterfront Bistro Shrimp, only available at our stores!
Total original price
* Estimated price based on adding all ingredients to cart.
Main
1-pound Waterfront Bistro Gulf Shrimp Raw, Shell & Tails On
2 pounds mini red potatoes, cut in half
2 ears corn, cut in quarters
12 oz. Cajun style andouille sausage, sliced diagonally into 1-inch pieces
4 tablespoons unsalted butter, sliced
2 teaspoons seafood seasoning
4 cloves garlic, minced
Cooking Instructions
Step 1
Defrost Waterfront Bistro shrimp per package instructions.
Step 2
Preheat oven to 425º F.
Step 3
In a microwaveable safe bowl, cover and microwave potatoes for 6 minutes on high power.
Step 4
Prepare four 18 x 12-inch pieces of heavy-duty aluminum foil. Divide and place potatoes, shrimp, corn, sausage, butter, seasoning, and garlic on each piece of foil. Fold edges of foil upward and double fold top and ends of each piece of foil to create a pouch.
Step 5
Place the pouches on a sheet pan. Bake for 30 – 35 minutes or until potatoes are tender.
Step 6
Remove from oven and carefully open the packets. Serve with lemon wedges.
Step 7 :: Helpful Hints
Cook thoroughly to an internal temperature of 145ºF as measured by a food thermometer.
All recipe ingredients should be cooked to a safe internal temperature according to USDA guidelines. After preparing a recipe, please store any leftovers in the refrigerator.