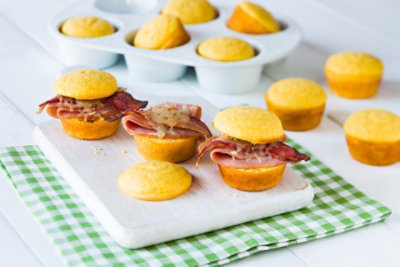 Gluten-Free Cornbread Breakfast Sandwiches
An easy and delicious breakfast solution that kids will love! Hearty, tasty, cornbread made with nutritious ingredients and piled with protein to give your family a great start to the morning.
Total original price
* Estimated price based on adding all ingredients to cart.
Main Ingredients
1 box Open Nature® gluten-free cornbread mix
1 cup O Organics® plain Greek yogurt
1 O Organics® egg
1 stick O Organics® butter, melted and cooled to room temp
12 tablespoons O Organics® shredded mozzarella cheese
12 slices Open Nature® honey ham
6 slices Open Nature® uncured bacon, cooked crispy
Cooking Instructions
Step 1
Preheat oven to 375º.
Step 2
In a medium bowl, whisk together yogurt and egg. Whisking quickly, beat in butter. Stir in cornbread mix just until well-combined - mixture will be thick.
Step 3
Spray a 12-count muffin tin with nonstick cooking spray, or use silicone baking liners. Scoop batter into each muffin tin, dividing evenly.
Step 4
Bake for 17 - 20 minutes, until tops look lightly toasted. Remove from oven and let cool.
Step 5
Remove each cornbread muffin from the tin, and, using a serrated knife, slice each muffin 1/3 of the way down horizontally, to make a small "sandwich" top and bottom.
Step 6
On a large baking sheet, place each cornbread sandwich (top and bottom) cut side open.
Step 7
Sprinkle 1 tablespoon of shredded cheese on the cut side of each sandwich top and place a folded piece of ham on the cut side of each sandwich bottom.
Step 8
Place the cornbread sandwich halves in the oven on low broil until cheese is melted and bubbly, about 3 minutes.
Step 9
Remove from the oven, place a half slice of bacon on each sandwich, and close sandwiches while hot so the melted cheese holds it together.
Step 10
Serve immediately, or freeze for morning meal prep!
Step 11 :: Helpful Hints
Add a scrambled egg to each sandwich for added protein!
Step 12 :: Helpful Hints
You can use any kind of O Organics® shredded or sliced cheese.
Step 13 :: Helpful Hints
Stir a can of chopped green chiles into the cornbread mix for a spicy, Southwest take on this breakfast sandwich.
Step 14 :: Helpful Hints
Sandwiches can be frozen for an easy breakfast in the future. Just reheat them in the microwave or oven!
All recipe ingredients should be cooked to a safe internal temperature according to USDA guidelines. After preparing a recipe, please store any leftovers in the refrigerator.