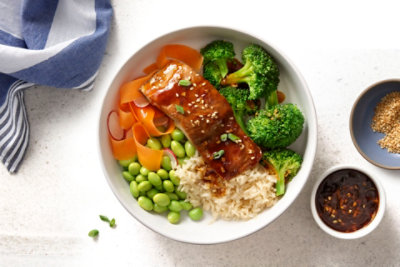 Orange Teriyaki Salmon Bowl
Bring the Bistro Home with this zesty and tasty spin on a classic teriyaki bowl. Starring Waterfront Bistro frozen salmon, this tangy recipe will pack a flavorful punch.
Total original price
* Estimated price based on adding all ingredients to cart.
Main
2 (4 oz.) Waterfront Bistro Wild Alaskan Pink Salmon fillets, Boneless and Skin On
½ cup bottled teriyaki sauce
1 large orange, zest and juiced
1 teaspoon minced ginger
2 tablespoons vegetable oil
2 cups cooked rice
½ cup shredded carrots
1 cup broccoli florets, steamed
½ teaspoon toasted sesame seeds (optional)
2 green onions, thinly sliced (optional)
Cooking Instructions
Step 1
Thaw salmon per package instructions.
Step 2
Pat fish dry with paper towels.
Step 3
In a small bowl, combine teriyaki sauce, orange zest and juice, and ginger. Set aside.
Step 4
In a non-stick skillet over medium-high heat, heat oil. When the oil is hot, add salmon skin-side down, cook for 3 – 4 minutes, until skin is golden and crisp.
Step 5
Flip fish and add sauce to the pan.
Step 6
Reduce heat to medium and cook for 2-3 minutes or until fish is cooked through and flaky.
Step 7
Evenly divide the rice, carrots, broccoli, and salmon and arrange in serving bowls.
Step 8
Pour sauce over fish and vegetables.
Step 9
Garnish with toasted sesame seeds and green onions.
Step 10 :: Helpful Hints
Cook to an internal temperature of 145 degrees F.
All recipe ingredients should be cooked to a safe internal temperature according to USDA guidelines. After preparing a recipe, please store any leftovers in the refrigerator.