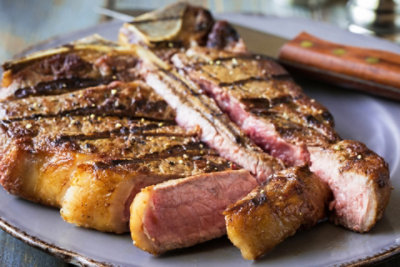 Perfectly Grilled T-Bone Steak
Don't forget to dry the steak before seasoning! The drier the steak, the less steam is produced which will create better caramelization. Caramelization = Deliciousness!
Total original price
* Estimated price based on adding all ingredients to cart.
Main Ingredients
1 T-Bone Beef Steak (cut 1 1/2 inches thick)
2 teaspoons vegetable oil
2 teaspoons kosher salt
1 teaspoon coarsely ground black pepper
Cooking Instructions
Step 1
Preheat grill to 500 to 600º, lighting only one side of the grill. Rub steak with oil, salt and pepper. Let rest on counter to bring to room temperature for about 30 minutes.
Step 2
Place steak on the cool side the grill, being sure to place the short side of the steak away from the heated side of grill for about 15-20 minutes. Once the large side of the steak reaches an internal temperature of 115º (110º for the short side) move and sear the steak on the hot side of the grill, about 2-3 minutes per side, or until an internal temperature of 130º is reached for medium-rare.
Step 3
Remove steak and loosely tent with aluminum foil. Let rest 5 minutes before serving.  
All recipe ingredients should be cooked to a safe internal temperature according to USDA guidelines. After preparing a recipe, please store any leftovers in the refrigerator.