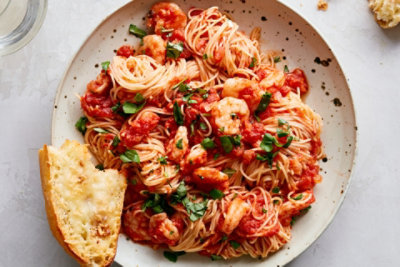 Shrimp Fra Diavolo with Angel Hair Pasta and Asiago-Garlic Bread
Feeling a little devilish tonight? Then you'll love our take on this classic Italian-American pasta dish. The name fra diavolo, or "brother devil," comes from the crushed red pepper that gives the tomato sauce its heat (though you can use as much or as little as you like). Sweet, succulent shrimp are an excellent pairing for the spicy sauce. And since we couldn't resist the play on good and evil, we're tossing the sauce with superfine angel hair pasta (get it?) and serving with cheesy Asiago-garlic bread. It's clever (at least we think so!), but also downright delicious.  
Total original price
* Estimated price based on adding all ingredients to cart.
Main Ingredients
1/2 ounce basil
1 yellow onion
6 cloves garlic
1 1/4 pounds shrimp
1/3 cup white wine
29 ounces crushed tomatoes
1/4 teaspoon crushed red pepper
8 ounces angel hair pasta
2 demi-baguettes
2 ounces shredded Asiago cheese
olive oil
kosher salt
black pepper
Cooking Instructions
Step 1
Preheat oven to 450°F. Bring a large pot of water to a boil over high heat. Rinse basil and roughly chop leaves, discarding stems. Peel onion and cut into small dice. Mince garlic (see recipe tip). Pat shrimp dry with paper towel and season all over with .5 teaspoon salt and black pepper as desired.  
Step 2
Heat 3 tablespoons olive oil in a separate large pot over medium heat. When oil is shimmering, add half of minced garlic and cook, stirring constantly, until fragrant, 30 seconds. Transfer garlic oil to a small bowl and reserve for Step 5. Return pot to medium heat with 1 tablespoon olive oil. Add onion and remaining garlic and cook, stirring, until softened, 2 minutes. 
Step 3
Add white wine, crushed tomatoes, crushed red pepper (feel free to use less, but the spice is what makes it diavolo!), half of basil, .75 teaspoon salt, and black pepper as desired to pot with aromatics, still over medium heat, and simmer until flavors have melded, 8-10 minutes. Add shrimp to sauce and cook, stirring occasionally, until opaque and cooked through, 3-5 minutes more. Remove pot from heat and set aside.
Step 4
While sauce simmers, season boiling water generously with salt. Stir in angel hair pasta and cook until al dente, 4-5 minutes. Reserve 1 cup pasta cooking water, then drain and return to pot, off heat (see recipe tip).
Step 5
Halve baguettes lengthwise and place cut-side up on a baking sheet. Use a spoon to drizzle garlic oil over bread, then sprinkle over Asiago. Bake until cheese begins to bubble and brown slightly, 3-5 minutes. Meanwhile, add tomato sauce and shrimp to pot with pasta, still off heat, and toss to coat. Stir in pasta cooking water, 2 tablespoons at a time, until sauce is silky and clings to noodles.
Step 6
Once baked, cut Asiago-garlic bread in half crosswise. Divide shrimp fra diavolo among serving bowls and serve with bread. Garnish with remaining basil and dig in!  
All recipe ingredients should be cooked to a safe internal temperature according to USDA guidelines. After preparing a recipe, please store any leftovers in the refrigerator.