Feel free to change your location anytime.
Sign In / Up

Summary

0

Points Toward
Next Reward

0

Rewards Expiring
End of Month
Feel free to change your location anytime.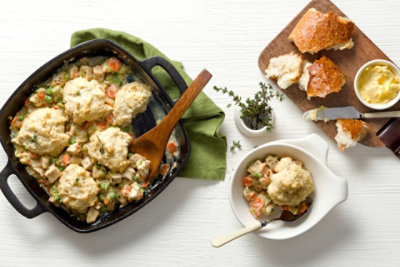 Recipe by
Better Homes & Gardens
Chicken Pot Pie with Biscuit Topper
For optimal texture, use a pastry blender to mix the butter into this homemade biscuit mixture. No need to bake separately, the dough is spooned over the casserole and goes into the oven for about 20 minutes.
1 hour, 5 mins
Total cook time
Total original price
* Estimated price based on adding all ingredients to cart.
Main Ingredients
2 tablespoons butter, , plus 1/4 cup, divided
1 cup thinly sliced celery,
1 cup sliced carrots,
½ cup chopped onion,
1 pound skinless, boneless chicken breast halves, cut into 3/4-inch pieces,
2 tablespoons all-purpose flour, , plus 1 cup, divided
½ teaspoon dried thyme, crushed,
½ teaspoon salt, , divided
¼ teaspoon black pepper,
2 cups milk, , divided
½ cup frozen peas,
1½ teaspoons baking powder,
Cooking Instructions
Step 1
Preheat oven to 450°F. Coat a 2-quart square or rectangular baking dish with cooking spray.
Step 2
In a large skillet, melt 2 tablespoons butter over medium heat. Add celery, carrots and onion; cook 8 minutes or until onion is tender, stirring occasionally. Add chicken; cook 5 minutes or just until browned, stirring occasionally. Stir in 2 tablespoons flour, thyme, 1/4 teaspoon salt and pepper; gradually stir in 1 1/2 cups milk. Cook and stir until thickened and bubbly. Stir in peas; cook and stir 1 minute more. Cover and keep warm.
Step 3
For biscuit topper, in a medium bowl, stir together 1 cup flour, baking powder and 1/4 teaspoon salt. Using a pastry blender, cut in 1/4 cup butter until mixture resembles coarse crumbs. Make a well in center of flour mixture. Add 1/2 cup milk all at once; stir just until moistened.
Step 4
Transfer chicken mixture to prepared baking dish. Drop biscuit topper in nine mounds on top of chicken mixture. Bake 20 minutes or until filling is bubbly and biscuits are golden. Let stand 10 minutes before serving.
All recipe ingredients should be cooked to a safe internal temperature according to USDA guidelines. After preparing a recipe, please store any leftovers in the refrigerator.
© 2019 Albertsons Companies, Inc. All rights reserved.
Sign In or Sign Up
To use this feature, you must sign in or sign up with Carrs.com. To return to browsing, close this window
Select Your Store
Cancel
Select a store below to add just for U deals and save on your next shopping trip.
Sorry, no stores found in that zip code. Choose your primary store and relevant offers
LOGO or
LOGO Why am I seeing this?
We found multiple stores for you. One could be your favorite while another might be a store near you, or one you browsed in the past. Since some offers vary by store, we want to make sure we're showing you the correct offers for your favorite store.
Why do I see this every time I visit?
If you visit the website and are not logged in, we automatically pick the store closest to you. If you try then log in and have a different store saved with your account, we will confirm which store you prefer. If you clear your browser cookies (or have software that automatically clear cookies) you may receive this each time you visit the site.
To keep this from happening
Select "Keep me signed in on this computer" when logging in or go to your browser's settings and update them to not clear cookies for this website.
Cart Content Notification
We've consolidated the items added to your cart from today with those added during a previous visit. Please review and confirm the items and quantities before checking out.
Close
Cart Error
We were unable to consolidate the items added to your cart today with those added during a previous visit. Please review and confirm the items and quantities before checking out.
Close
Confirm Order Changes?
As a reminder, the changes to your order have not been saved yet.
We're not able to confirm your pending order at this time.