Feel free to change your location anytime.
Sign In / Up

Summary

0

Points Toward
Next Reward

0

Rewards Expiring
End of Month
Feel free to change your location anytime.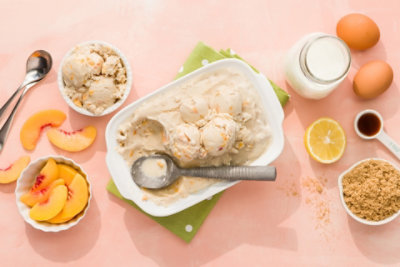 Brown Sugar-Peach Ice Cream
Fresh peaches are best, but if you like, you can substitute one thawed 16-ounce package frozen unsweetened peach slices for the fresh.
Total original price
* Estimated price based on adding all ingredients to cart.
Main Ingredients
1½ cups milk,
3 eggs, lightly beaten,
1½ cups whipping cream,
1 teaspoon vanilla,
1¼ cups packed brown sugar, divided,
3 cups peeled and finely chopped peaches (4 medium),
1 tablespoon lemon juice,
Cooking Instructions
Step 1
In a large heavy saucepan, heat milk on medium heat just until it starts to bubble around the edge. Gradually stir milk into beaten eggs. Return to saucepan. Cook and stir on medium heat about 2 minutes or until heated through. Remove from heat; cool slightly. Stir in cream and vanilla. Add 3/4 cup brown sugar, stirring until dissolved. Cover and chill.
Step 2
In a medium bowl, combine peaches, the remaining 1/2 cup brown sugar and lemon juice. Stir peach mixture into chilled cream mixture.
Step 3
Freeze peach mixture in a 4- or 5-quart ice cream freezer according to the manufacturer's directions. If desired, ripen for at least 4 hours.
All recipe ingredients should be cooked to a safe internal temperature according to USDA guidelines. After preparing a recipe, please store any leftovers in the refrigerator.
© 2019 Albertsons Companies, Inc. All rights reserved.
Sign In or Sign Up
To use this feature, you must sign in or sign up with Carrs.com. To return to browsing, close this window
Select Your Store
Cancel
Select a store below to add just for U deals and save on your next shopping trip.
Sorry, no stores found in that zip code. Choose your primary store and relevant offers
LOGO or
LOGO Why am I seeing this?
We found multiple stores for you. One could be your favorite while another might be a store near you, or one you browsed in the past. Since some offers vary by store, we want to make sure we're showing you the correct offers for your favorite store.
Why do I see this every time I visit?
If you visit the website and are not logged in, we automatically pick the store closest to you. If you try then log in and have a different store saved with your account, we will confirm which store you prefer. If you clear your browser cookies (or have software that automatically clear cookies) you may receive this each time you visit the site.
To keep this from happening
Select "Keep me signed in on this computer" when logging in or go to your browser's settings and update them to not clear cookies for this website.
Cart Content Notification
We've consolidated the items added to your cart from today with those added during a previous visit. Please review and confirm the items and quantities before checking out.
Close
Cart Error
We were unable to consolidate the items added to your cart today with those added during a previous visit. Please review and confirm the items and quantities before checking out.
Close
Confirm Order Changes?
As a reminder, the changes to your order have not been saved yet.
We're not able to confirm your pending order at this time.