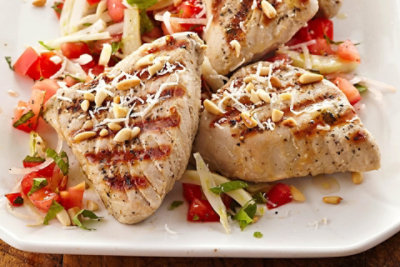 Tuscan Tuna with Tomato Salad
The grill is a great way to cook tuna steaks; just be sure to pull them off when they're still flaky and tender. For that reason, it's best to have most of the tomato salad prepped before you put the steaks on to grill.
Total original price
* Estimated price based on adding all ingredients to cart.
Main Ingredients
4 5- to 6-ounces fresh or frozen tuna steaks (thawed), about 1 inch thick,
3 teaspoons white-wine vinegar, divided,
1 teaspoon olive oil,
½ teaspoon dried Italian seasoning, crushed,
¼ teaspoon salt,
½ teaspoon ground black pepper, divided,
2 medium tomatoes, seeded and chopped (1 cup),
½ cup thinly sliced fennel bulb,
¼ cup snipped fresh basil,
1 medium shallot, halved and thinly sliced,
1 clove garlic, minced,
1 tablespoon pine nuts, toasted and chopped,
1 tablespoon finely shredded Parmesan cheese,
Cooking Instructions
Step 1
Rinse fish; pat dry with paper towels. Set aside. In a small bowl, stir together 1 teaspoon vinegar, olive oil, Italian seasoning, salt and 1/4 teaspoon pepper. Brush on both sides of tuna steaks. Set aside.
Step 2
For tomato salad, in a medium bowl stir together tomatoes, fennel, basil, shallot, garlic, the remaining 2 teaspoons vinegar and 1/4 teaspoon pepper. Set aside.
Step 3
For a charcoal grill, place fish on the greased grill rack directly over medium coals. Grill, uncovered, for 6 to 8 minutes or until fish begins to flake when tested with a fork, turning fish once halfway through grilling. (For a gas grill, preheat grill. Reduce heat to medium. Place fish on a greased grill rack over heat. Cover and grill as directed.)
Step 4
Serve tuna with tomato salad. Sprinkle with pine nuts and Parmesan cheese.
All recipe ingredients should be cooked to a safe internal temperature according to USDA guidelines. After preparing a recipe, please store any leftovers in the refrigerator.